VINTAGE PARKER DUOFOLD
FOUNTAIN PEN & PENCIL SET
~ GEOMETRIC - Also Referred as "Toothbrush" ~
~ SENIOR Long Bold Pen of Overall Length 5-1/8 inches ~
~ RARE Stunning Golden Tiger Eye Pearl Marble Toothbrush Pattern ~
~ Button-fil ~ Gold Trim ~ a Parker 14ct Solid Gold Nib ~ Circa 1930s ~
~ New Ink Sac Fitted ~ Serviced ~ Nice Overall Condition ~

Up here for your consideration is a vintage Parker DUOFOLD GEOMETRIC fountain pen and pencil set, which was manufactured in USA circa 1930s. The pen is a rare; and the color is in golden pearl marble with TOOTHBRUSH pattern. The pen bears gold trim and a Parker 14ct solid gold nib in nice condition. The body has been polished to glossy color. The button filling system is in perfect working order. The pen has been serviced and tested for its full functionality. This Parker Duofold Geometric Toothbrush is a classic elegance and has been produced to the highest standards of craftsmanship, technology, and aesthetics. This would make an excellent gift to treat yourself or someone important <pk228>.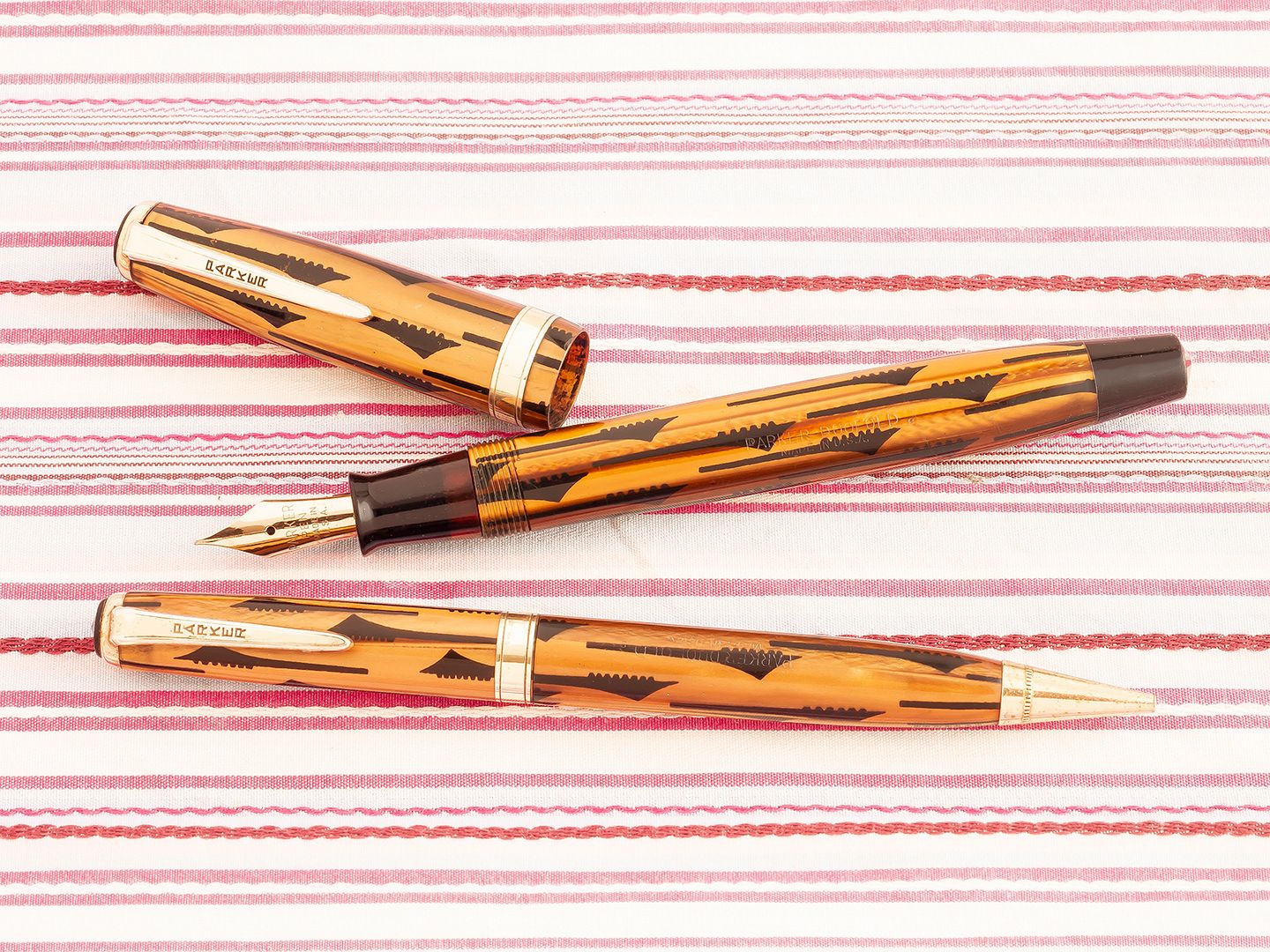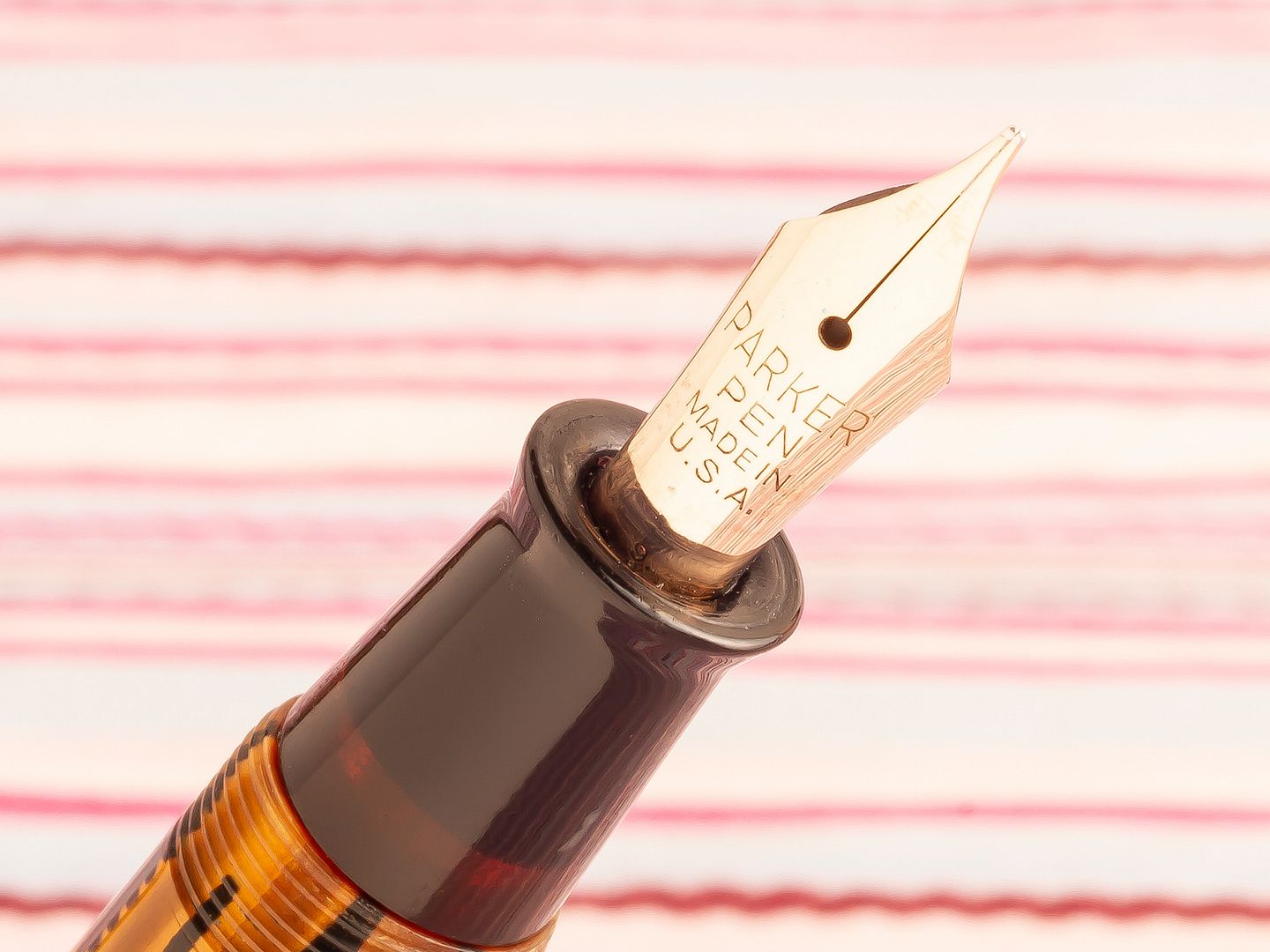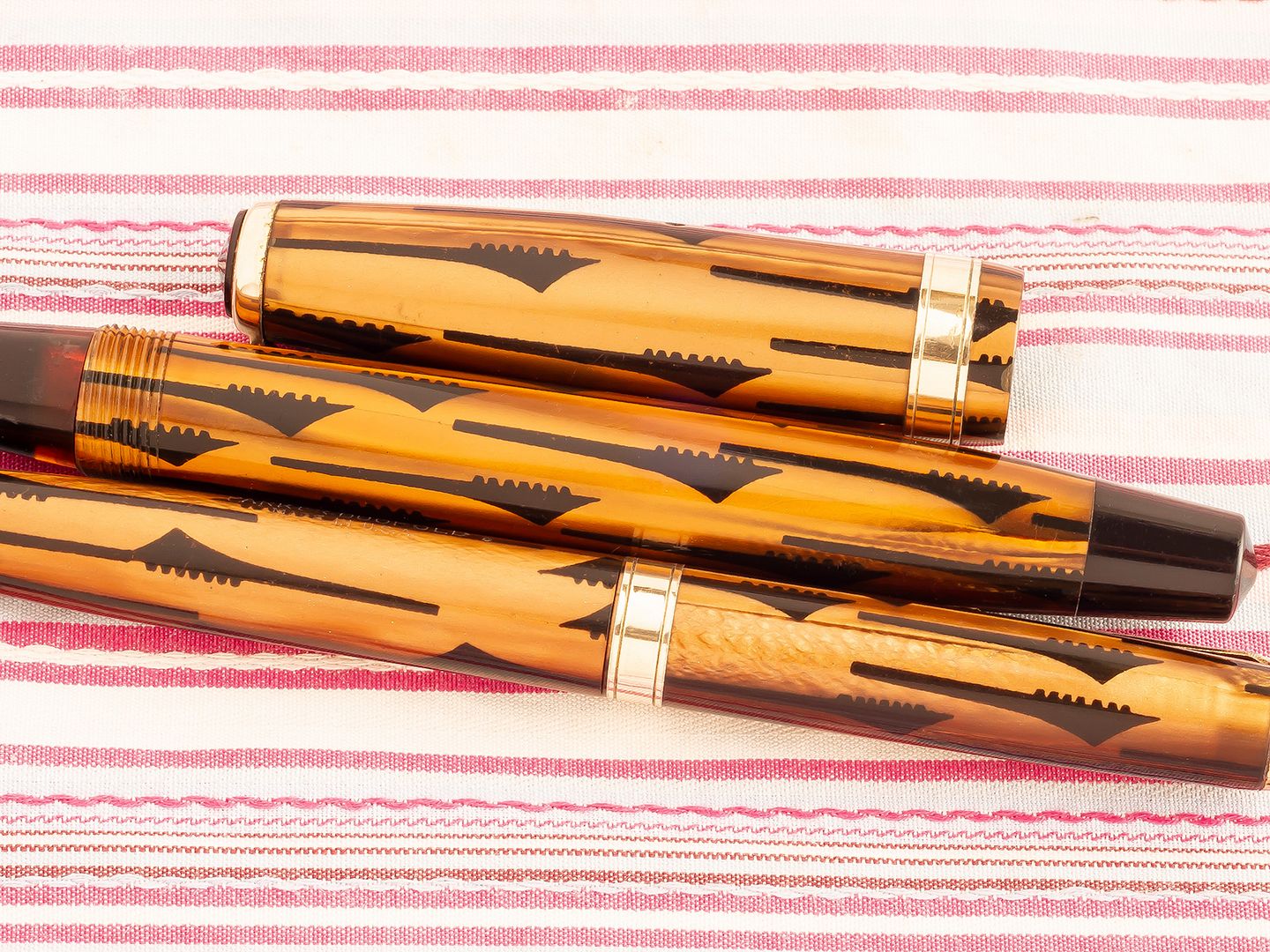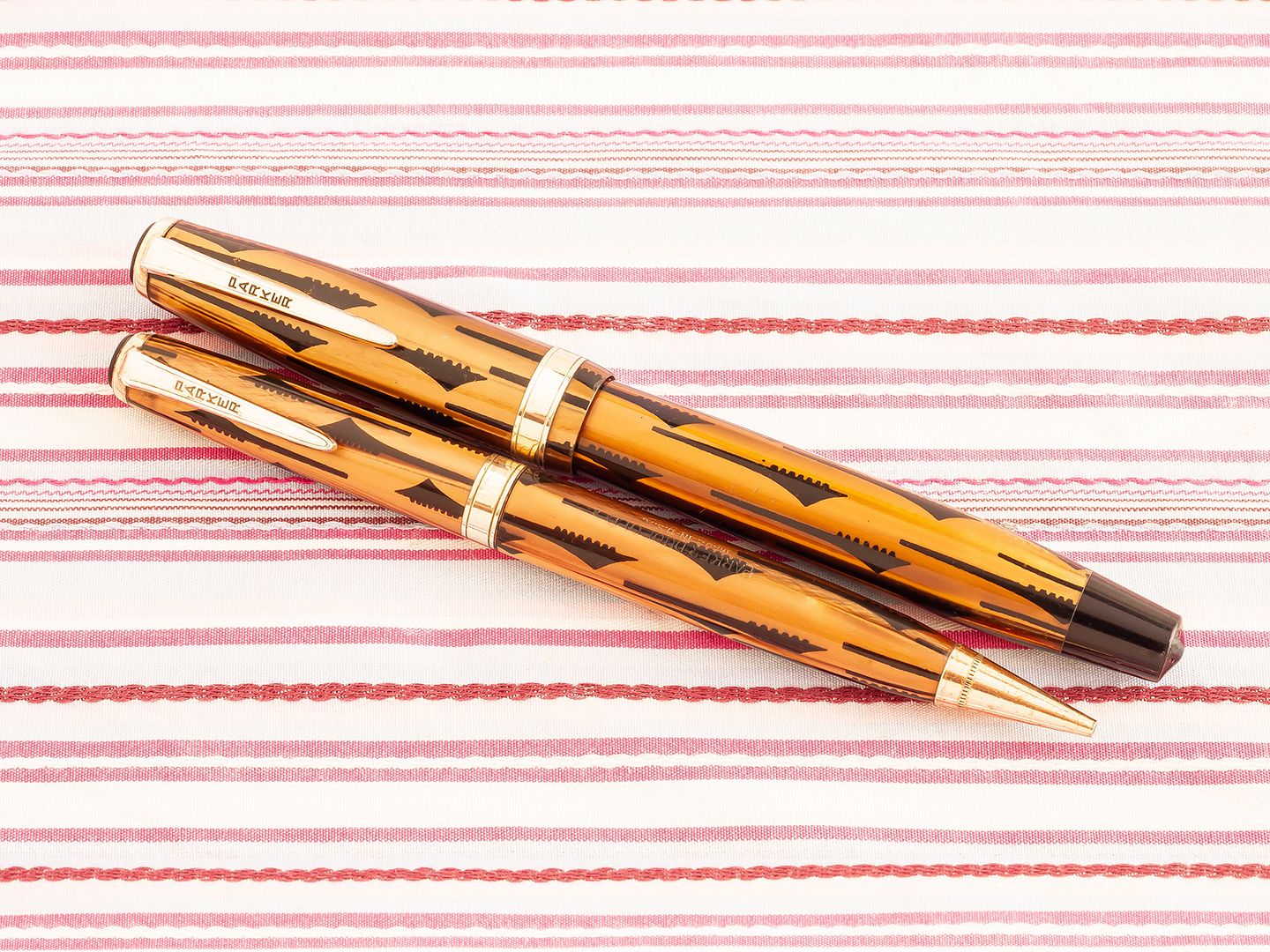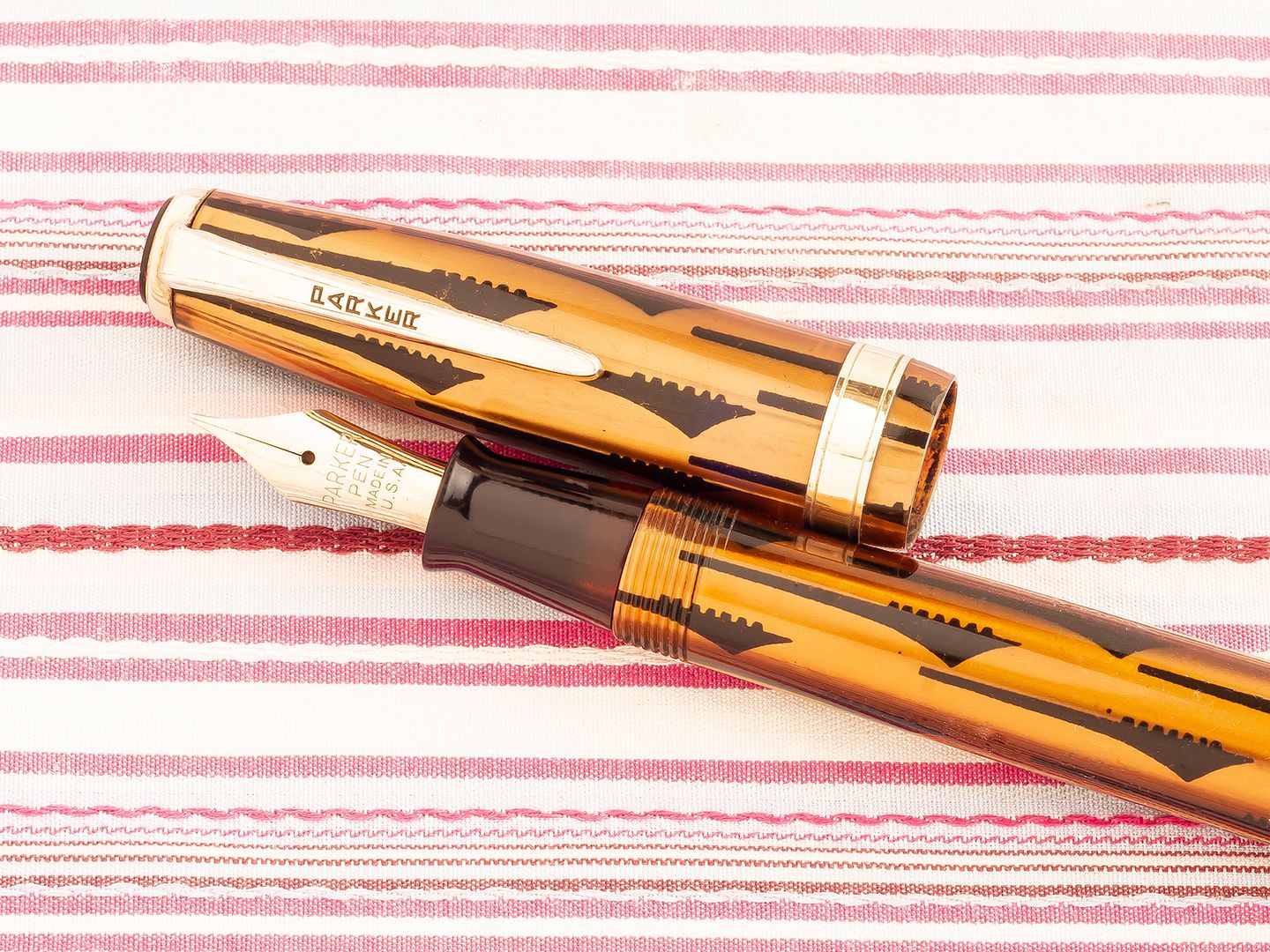 SUMMARY

Model:
Parker Duofold Geometric Senior - USA
Colour:
Golden tiger eye toothbrush marble
Overall Length:
5-1/8 Inches
Date Manufactured:
Circa 1930s
Filler Type:
Button filler
Restoration:
The pen SET has been conservatively serviced, polished and tested for full functionality. Stunning; Some wears due to age
Golden toothbrush marble plastics

Trim Pattern:

Single gold capband; Polished

Pocket Clip:

Classic gold pocket clip with the 'PARKER' embossed; it is polished and adjusted to tight fit on your shirt.

Material:
14ct Solid Gold
Grade:
Medium
Flexibility:
Semi-Flexible
Imprint:
Reads 'PARKER PEN MADE IN U.S.A.'
Condition:
The iridium tip is intact writes smooth line
Imprint:
Reads 'PARKER DUOFOLD MADE IN U.S.A.' with datecode '9'
End Jewel:
Screw cap for filler
The Parker Pen Company was founded in 1888 by George S. Parker, whose mission was to manufacture a better pen. The Parker Pen Company's tradition epitomizes the highest standards of craftsmanship, technology, and aesthetics. From the 1920s to the 1960s, Parker was No.1 in worldwide writing instrument sales. The Parker Duofold is one of the most recognizable and enduring fountain pen designs. Launched in 1921, the pen was a phenomenal success and put the Parker Pen Company squarely into the front rank of fountain pen manufacturers. Duofold remain popular in Europe being produced well into the 60s in varying sizes and colors when it was revived in the 80's once again as Parker's Flagship model.


Parker pens were frequently selected to sign important documents such as the World War II armistices, and commemorative editions were sometimes offered.
| | |
| --- | --- |
| | We are international vintage pen collector and we collect pens all round the world. The pen may be dispatched from our buying offices outside UK. We also wish to point out that there is no such thing as the perfect vintage item. All vintage pens over 50 years old are susceptible to varying degrees of wear and ageing over time, and the functionality is not comparable to new pens. The condition of each item is described to the best of our observation. |
PAYMENT We only accept PAYPAL. For UK buyer, direct bank transfer is also accepted.
DELIVERY The pen will be securely wrapped and dispatched in cardcase box. It will be sent via registered mail. Please allow at least 6-8 working days to receive the pen.
CONTACT US We have made very endeavour to produce a fair and accurate description of this item. Photos shown are actual photos of items taken just before listing. We sincerely wish our service meet your expectation. If you should ever have any problem with your order, please kindly contact us immediately for further arrangement. We will surely make it right.
We have more vintage fountain pens available
to visit our shop for more selection